#1 Boat Ride
See the Sights
---
Take a trip to remember!
San Francisco Sightseeing Tours
Take your sightseeing off the streets and onto the San Francisco Bay. When you book an adventure sightseeing tour on our high-powered RIB, you will have the best seats for viewing iconic sights like Alcatraz, the Golden Gate Bridge, and Pier 39. While our adventure boat tours are all dependent on the weather, you will have the opportunity to see many of San Francisco's main attractions in one unforgettable sightseeing tour.
What you'll see on the Bay's #1 Boat Trip
The Golden Gate Bridge - from below. This is a unique view. While there are hundreds of thousands of people that live in and visit San Francisco every day, only a fraction of this population has seen this Golden Gate from this perspective. This bridge is 1.7 miles long, 90 feet wide and lower deck is 220 ft from the water. Construction on the bridge started in January 1933 and the bridge was open for use in May 1937. 112,000 cars cross the Golden Gate Bridge every day.
Visit Pier 39 and the sea lions that live on K-dock. Pier 39 was built to be the main attraction for visiting San Francisco - construction started in August 1977 and the pier was open for business the next year in October 1978. In 1990, California sea lions began visiting Pier 39's K-dock which has been modified to accommodate the 1.5K sea lions that migrate there annually.
View the Salesforce Tower, Transamerica Building and Coit Tower from the water. The San Francisco skyline has been growing and changing since the first tall ship that landed on her shores in 1769. The city was founded in 1776. Coit Tower and lighthouse was commissioned in 1929 and the Transamerica Tower altered the skyline in 1972. The newest addition to the iconic cityscape is the Salesforce Tower becoming the tallest building in the city in 2018.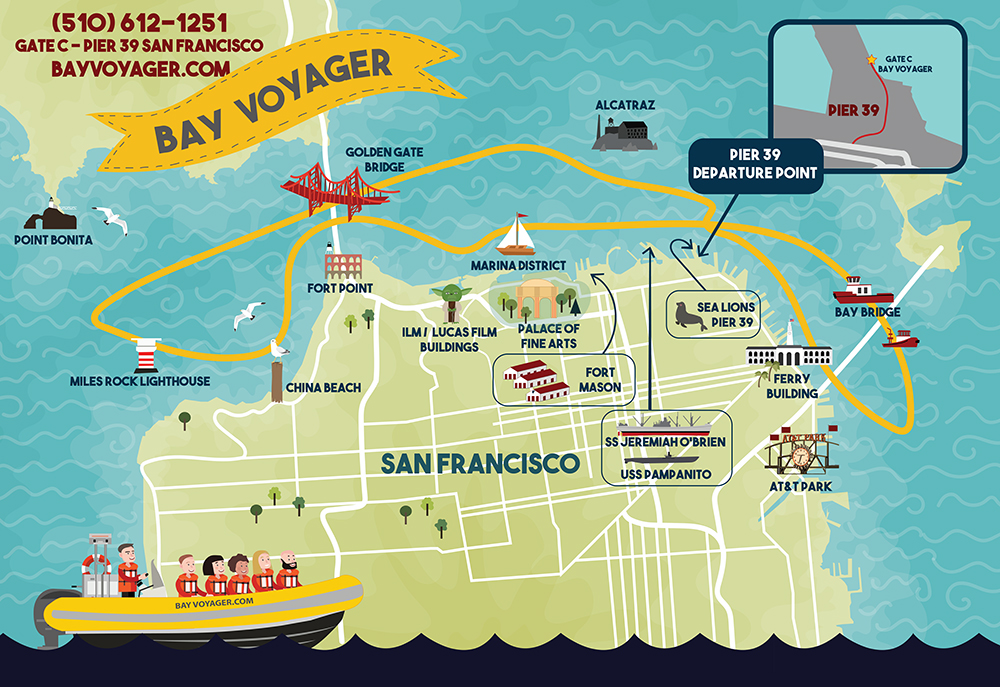 Explore the Bay!
Bay Voyager gives you a thrilling, one of a kind tour of the San Francisco Bay. This map outlines our standard tour route along with some of the amazing sites you will see.
---
*Active duty military and senior rates available
---
Exact route may vary based on tour package, weather, and sea traffic.
.