2-8 people
$69/person
---
$49/child
---
Location:
Pier 39, San Francisco
---
Duration:
45 Minutes
---
Adventure Waterfront Tour
Navigating along the city waterfront and enjoy your 45 min adventure tour that highlights the earliest parts of San Francisco dating back to the pre-civil war era. See the towering buildings along the embarcadero of this historic waterfront where the heart of the Gold Rush thrived in 1848. Then visit where it all began in 1776 at the former Military base, The Presidio, now home to an assortment of businesses and film studios "Lucasfilm". The highlight of this adventure will be our visit at Fort Point, just underneath the Golden Gate Bridge. Begun in 1853, Fort Point is the only civil war fort on the west coast of the United States and luckily, never fired a single cannon in the defense of San Francisco Bay and see the Golden Gate Bridge in all its glory.
We'll also bring you within feet of the world-famous Sea Lions at PIER 39 and the historic SS Ship Jeremiah O' Brien, the last operating WWII Liberty Ship that took part in the Normandy Invasion, June 6, 1944, the beginning of the end of WWII.
Our U.S. Coast Guard licensed captains stop at several places along the way to point out historic landmarks of San Francisco, giving you several opportunities to take photos and video of our historic bay. Bay Voyager is a fast boat, so we split that time up between going fast and slow throughout the adventure to make sure you can take in the sights and sounds of San Francisco Bay.
Highlights
Golden Gate Bridge
Fort Point, (Former Military Base) The Presidio of San Francisco, Alcatraz (in the distance, we do not go around or near it)
WWII Liberty Ship "SS Jeremiah O'Brien"
WWII Submarine USS Pampanito
Sea Lions at PIER 3
CANCELLATION POLICY:
While we understand things may happen that lead to unavoidable cancelation we have a limited number of seats and appreciate you understanding our policy on refunds, rescheduling. There is no refund/rescheduling for customers who do not show up or miss for their scheduled departure. We are obligated to all our guests to depart on time so please arrive 30 minutes prior to departure.

REFUND/ RESCHEDULING:
A refund may be made if requested at least five days before the scheduled trip. Tickets can be rescheduled for another date with at least 72 hours' notice and are transferable. Bay Voyager reserves the right to cancel a trip due to unsafe weather conditions or other unforeseen circumstances, in which case a full refund will be issued.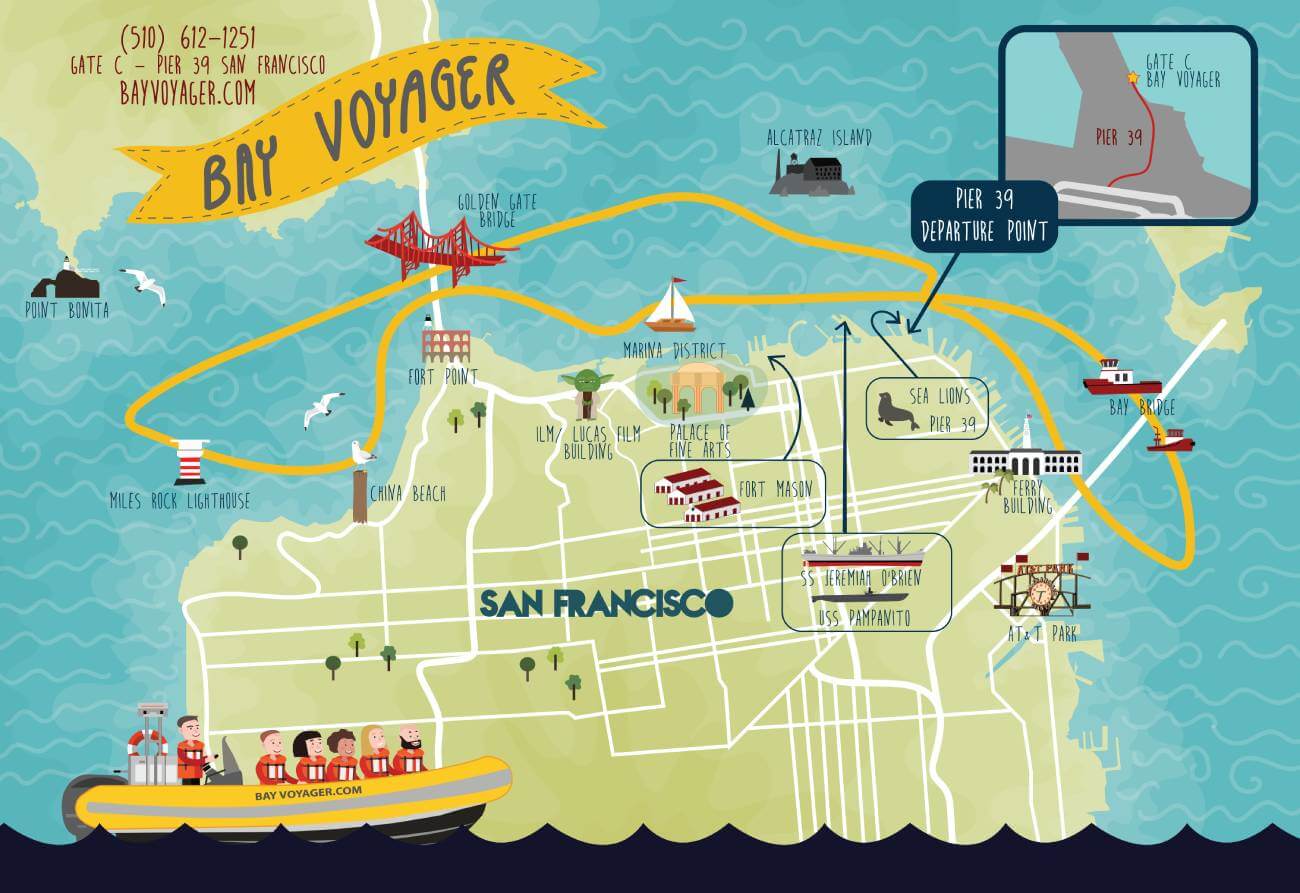 Explore the Bay!
Bay Voyager gives you a thrilling, one of a kind tour of the San Francisco Bay. This map outlines our standard tour route along with some of the amazing sites you will see.
---
*Active duty military and senior rates available
---
Exact route may vary based on tour package, weather, and sea traffic.
.