#1 Boat Ride
History Boat Rides
---
Take a trip to remember!
Explore the History of SF Bay
Book a tour on the Bay Voyager for a historical boat ride of San Francisco. Did you know that the whole of the San Francisco city front has a rich maritime history? How about that Angel Island acted as the "Ellis Island" of the West Coast and that for a short period, Alcatraz Island was a college for California's Native American population after it was a prison? Some of the West Coast's oldest tall ships, cargo ships, and military vessels are still docked and operating along the Embarcadero. Our trips are weather dependent, but some of the historical sites you may learn about on your tour are below.
Fort Mason.
Fort Mason stretches along the Embarcadero and Marina Green right up to the south tower of the Golden Gate Bridge. The area served as a US Army base for over 100 years playing many roles in WWII. To this day, the US Military uses and maintains the housing portion of Fort Mason while the remaining space is a multicultural community space.
Point Bonita Light House.
Perched atop Hawk Hill in the Marin Headlands, Point Bonita is one of the oldest lights houses on the West Coast. Due to the treacherous and rocky coastline often cloaked in thick fog, this light house was built in 1855 to guide ships into the San Francisco Bay. It was also the first West Coast lighthouse to have a fog signal.
The Liberty Ship SS Jeremiah O'Brien.
Docked at Fisherman's Warf, the SS Jeremiah O'Brien is one of two remaining Liberty Ships built in 1943. During WWII the O'Brien made seven voyages ranging from England and Northern Ireland to South America, to India, to Australia in support of the troops.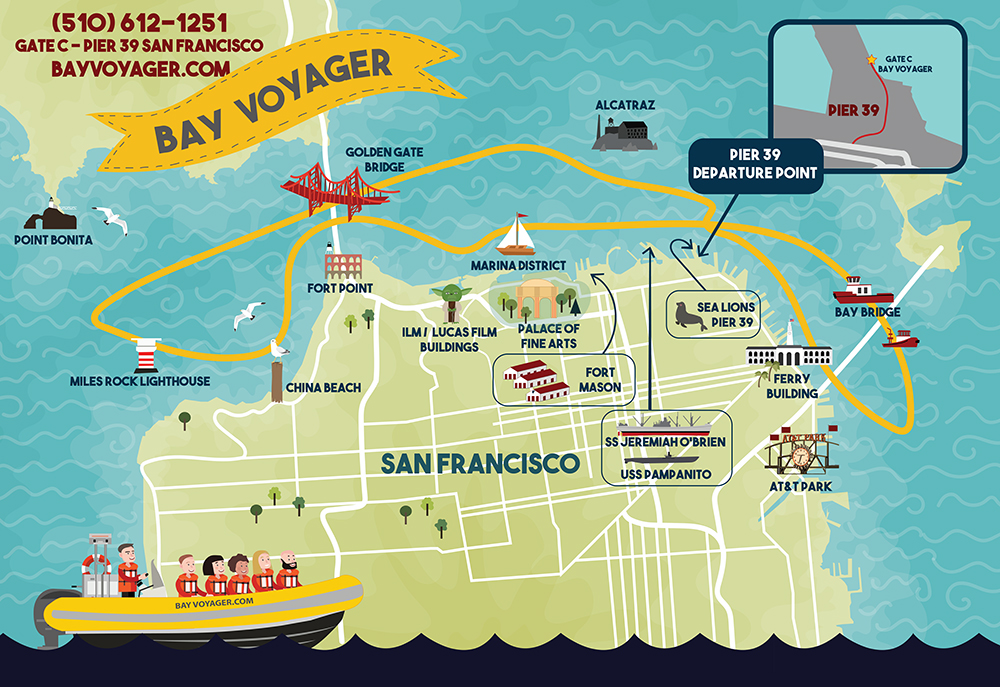 Explore the Bay!
Bay Voyager gives you a thrilling, one of a kind tour of the San Francisco Bay. This map outlines our standard tour route along with some of the amazing sites you will see.
---
*Active duty military and senior rates available
---
Exact route may vary based on tour package, weather, and sea traffic.
.