Give Us a Call (510) 612-1251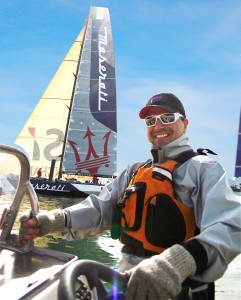 Captain Charles Jennings
With over 300 years of maritime history in his family, Captain Charles Jennings proudly calls the San Francisco Bay his home and office. Born and raised in the city by the bay, Captain Jennings has served on many vessels in varying capacities from the captain of the crew and ferry boats and as a tugboat engineer with Starlight Marine & Bay Delta Maritime for almost 7 years. The highlight of his career thus far has been his service aboard the WWII Liberty Ship SS Jeremiah O'Brien during the vessel's 50th-anniversary return to Normandy in 1994. Capt. Jennings father (Capt. Adrian Jennings) was captain of the passenger/Cargo combo ship SS Santa Maria out of San Francisco and also of the last owned, built and operated American Passenger Steam, the SS Monterey. With tales of adventure and intrigue, he is always ready to share local history and share his love of one the world's most beautiful bays.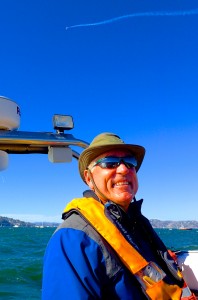 Captain Mike Long
Born and raised in Southern California, just a stone throws from the ocean. Capt. Mike spent most of his youth surfing, diving, fishing and racing Hobie Cat sailboats. His summers were spent on his parent's boat at Catalina Island where he eventually worked as a Harbor Patrolman. Capt. Mike moved to Northern California in 1979 and has been involved in fishing and boating in the local waters off Sonoma County as well as the San Francisco Bay. As a Captain in the Bay Area he has worked for San Francisco water Taxi, Golden Gate burial services, The Emerald Lady, private charter excursions, numerous boat deliveries, is a certified diver, fisherman, and an avid surfer.
Capt. Mike began working for Bay Voyager in October 2015 and on one of his first trips out past the gate saved the life of a surfer that got caught in the current and was being swept out to sea. Now that's adventure!
28′ Northwind Extreme Custom RIB
Built in Seattle, WA, by Northwind Marine in 2011.
US Coast Guard-approved and licensed, this vessel was patterned after the same versatile and nearly indestructible RIBs used by Navy Seals. Powered by a four-stroke, 300-hp Yamaha engine, we can run safely, day or night, in any sea state on the bay.
With seating for 12 passengers and 2 crew, we are a very versatile vessel. Passenger seating is removable, allowing cargo storage, use by camera or film crews. The deck is fitted with numerous deck hold-downs so equipment can be easily strapped to the deck.
The boat includes:
Stereo
Radar
Hailer
Inflatable BA's (Life Rafts)
Spotlights
Flood Lights
Speeds up to 37 knots. When fully loaded (32 mph)